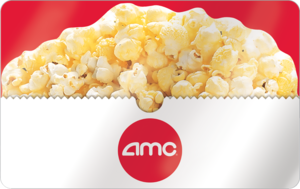 AMC Theatres now open.
AMC Safe & Clean™
Masks Required for All
Social Distancing Standards
Reduced Auditorium Capacities
Hand Sanitizer & Disinfecting Wipes Available
Cashless Transactions
Simplified Menu and No Refills
Pre-packed Condiments
Daily Associate Health Screenings
Help your friends' and loved ones' favorite movie stars come to them, by giving the gift of entertainment – AMC Theatres® Gift Cards! AMC Gift Cards are good for both movies and concessions at any theatre in the United States. Gift Cards are redeemable online, via the mobile app, and in theatre at kiosk and box office as well as through AMC Theatres On Demand. With On Demand, you have a world of movies ready at your fingertips. Rent or buy your favorites and watch them any time, at home or on the go.
Even better, AMC Gift Cards do not have any associated fees or expiration dates, so your gift spans the test of time. In the words of "Cousin Eddy" from "National Lampoon's Christmas Vacation:" "That's the gift that keeps on giving the whole year." AMC, the first in the exhibition industry to offer personalized gift cards, was also the first in the industry to launch circuit-wide gift cards in 2002. We think that's pretty cool, too. Headquartered in Leawood, KS, AMC Entertainment Inc. is a leading theatrical exhibition and entertainment company. With a history of industry leadership and innovation dating back to 1920, the company today serves hundreds of millions of guests annually at 1,000 theatres with over 11,000 screens worldwide.
AMC Gift Cards are also now redeemable for Private Theatre Rentals. Use your gift card on a Private Theatre Rental and watch a movie with 1-20 total guests in your own AMC Safe & Clean™ theatre, starting at just $99+tax. Click here to learn more.
AMC is not a sponsor of the rewards or promotion or otherwise affiliated with this company. The logos and other identifying marks attached are trademarks of and owned by each represented company and/or its affiliates. © 2020 AMC International, Inc. The AMC logo is a registered trademark and copyrighted work of AMC International, Inc