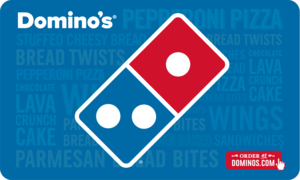 Domino's is more than pizza! Try one of three varieties of stuffed cheesy bread, a delicious variety of Domino's Artisan™ specialty pizzas, Oven Baked Sandwiches, Parmesan Bread Bites, or Chocolate Lava Crunch Cakes. Order online at www.dominos.com for lunch, dinner, or your next occasion.

Domino's Pizza is the recognized world leader in pizza delivery operating a network of company-owned and franchise-owned stores in the United States and international markets.
Participation by Domino's in the program is not intended as, and shall not constitute, a promotion or marketing of the program by Domino's.