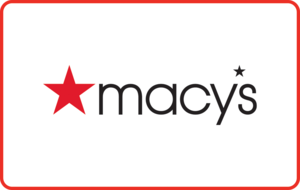 A Macy's E-Gift Card is appreciated by one and all. With a store full of wonderful items for home, weekend or work, it's the opportunity to get exactly what you want. Recipients can choose from Macy's incredible selection of fashions, furnishings and so much more. And Macy's e-Gift cards never expire.

Macy's cards are redeemable at over 600 stores nationwide or on-line at macys.com.
Macy's is not a sponsor of the rewards or promotion or otherwise affiliated with this company. The logos and other identifying marks attached are trademarks of and owned by each represented company and/or its affiliates. Please visit each company's website for additional terms and conditions.